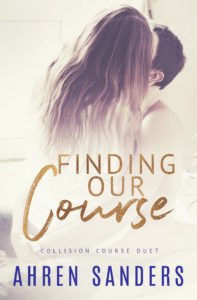 ✰✰✰COVER REVEAL✰✰✰
The Collision Course Duet is coming 10/23!
Pre-order now for .99¢ 
iBook: http://apple.co/2gbT9Wj
BN: http://bit.ly/2hFprFU
Kobo: http://bit.ly/2gcvGo4
Amazon: Coming Soon(10/23)
Add to your TBR: https://www.goodreads.com/…/show/36387542-finding-our-course
***Sign up for release notification: http://www.subscribepage.com/findingourcourse

Synopsis: 
Finding Our Course, A Collision Course Duet
Finding Our Way
Young Love. Schoolgirl Crush. Complete Adoration.
All of these words describe the way I've felt about Bryce Randolph since the day he walked through my door. I was twelve and he was my brother's best friend, but he never treated me as the pesky little sister. As the years went on, my feelings grew stronger. The day I turned eighteen was supposed to be the best day of my life, instead it became the worst.
Heartbreak. Devastation. Anguish.
With the right amount of time and distance, the ache lessens. My new life has no room for the endless tears I cried for months. Emotionally, Bryce betrayed me and caused a deep heartache I never thought I'd overcome. Now, I'm stronger, more focused, and extremely guarded. Moving on helped me find clarity and build a new path for my future.
Just as things seem to fall into place, Bryce finds me. He's a man on a mission and I'm the mission. His determination and persistence becomes hard to ignore.
Is it possible we may just have the future I always dreamed about?
Staying on Course
Adored. Cherished. Worshiped.
Bryce Randolph accomplished the impossible when he stormed back into my life. He repaired my shattered heart and promised to love me forever. My dreams now include a future with the man I've loved since I was twelve years old. He owns my soul, and a life without each other is not an option.
Sometimes, though, even the strongest bonds are tested.
How much am I willing to give up for the love of my life?
Ambition. Passion. Commitment.
As we chase our dreams, distance separates us, threatening to shake our foundation. Jealousy and insecurities unravel my confidence, but Bryce's devotion never falters. When we're faced with tough choices regarding our life together, I'm forced to rely on his unwavering strength.
Can we both have it all?
Then the unthinkable happens. Now, it's my turn to fight for our happily ever after. Are we falling apart after finding our way, or are we…
Staying on Course